Culverts are everywhere. Before this summer, I could drive along without really noticing them. Now, I'm a bit obsessed with them. Why?
For my summer "Part-time, temporary" work, I don waist-high waders and go hunting for where stream systems meet roadways! You see, not all culverts are being inventoried. Some culverts, like driveway culverts, let stormwater flow from one point to another, but stream crossing culverts or bridges allow the waterways to continue underneath the roadways.
 Each day in the field is an adventure.
 My partner and I battle the insects, heat, rain, and poison ivy to locate, inventory, and assess the stream crossings. We have some idea of where they should be, but some scouting is necessary. Sometimes the weather even cooperates to give us beautiful New England summer days!
Culverts come in all shapes and sizes. So, we never really know what to expect. For instance, this is a picture of a stone box culvert installed in June 1800 that is still functioning!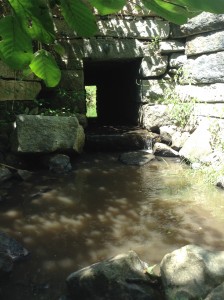 Along the way, we interact with the public to explain the need for our work. Why should they care if the culverts don't allow organism passage or are undersized? Well, small streams or rivers can carry the load of water after major storms. If the culverts are too small, the powerful moving water can do quite a bit of damage.
[youtube]https://www.youtube.com/watch?v=NTbhyHNA1Vc[/youtube] https://www.youtube.com/watch?v=NTbhyHNA1Vc
The video is of a roadway as it collapses in Freeport, Maine in 2008.
http://www.sentinelsource.com/news/local/winchester-residents-cleaning-up-after-flooding/article_a6a6c0e4-e407-5f2e-8343-a80b593bd2fd.html?mode=image&photo=1
This link provides pictures of the aftermath of a summer storm in Winchester which flooded the Ashuelot River, destroying a section of Old Westport Road.
Preferably, major road blow outs like Old Westport Road can be prevented. My work is part of a state-wide initiative by New Hampshire Department of Environmental Services (DES), New Hampshire Geological Survey (NHGS) and New Hampshire Department of Transportation (DOT)  to collect data on stream crossings. The intention is to locate and prioritize crossings that should be replaced or repaired.
During our assessment, we must be observant for local wildlife. Can you spot the amphibian?
One interesting part of the work pertains to data collection methodology. Previous work has relied on cameras, GPS units, and waterproof data collection paper. We are in the process of testing a new, IPad-driven data method. The IPad, protected by an expensive case and equipped with ARCGIS Online Data Collection App, seeks to combine the camera, GPS, and paper needs into one piece of equipment. Ideally, this app would sync all the data collected as points in an online database that DES, DOT, and regional planning commissions could access. For me, this means less time in the office doing data entry. Although the IPad seems perfect, we have had quite a few struggles with the syncing process. As with all methods, pros and cons exist. For instance, we had to delete all our data points in order to sync with the online database. We haven't lost any data collected on paper! Once the issues are resolved, this method could be quite effective, though.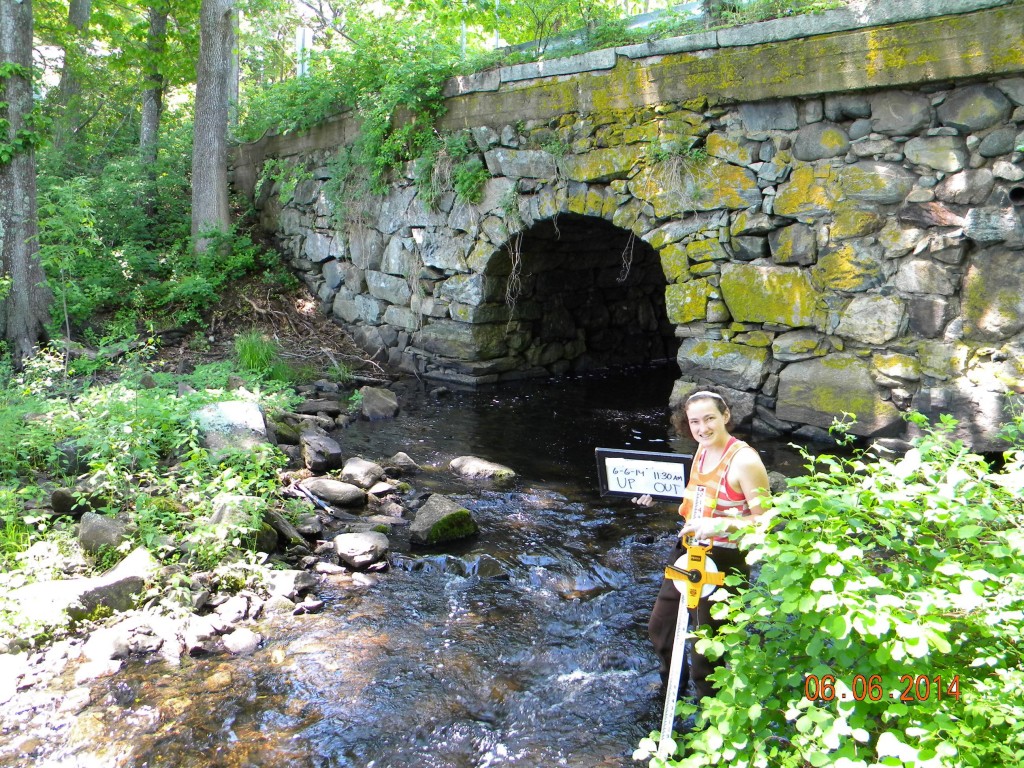 I am incredibly grateful for this opportunity to work with the Rockingham Planning Commission. The field work on stream crossing assessments has been quite insightful regarding infrastructure needs! 
If you have any questions, please email me at
ceb1012@plymouth.edu
.