As a first-year graduate student, the most frequent question I am asked upon meeting people is, "And what do you want to do with that?". This question, of course, is in response to learning that I am a Master's candidate in the Environmental Science and Policy field. I used to wholeheartedly humor these people with "maybe this" or "probably that" answers, when I really wanted to say I had no idea. That's not the case so much anymore. I still don't have a dream job in mind, but my research project and related thesis have definitely given me more direction.
Along with my advisor, Dr. Shannon Rogers, I am part of an EPA project focused on the valuation of water quality improvements in small streams flowing into the Great Bay Estuary (tributaries), and associated ecosystem services. Simply put, ecosystem services are benefits derived from healthy and functioning ecosystems such as clean drinking water, recreational opportunities, and increased wildlife presence. This assessment is necessary because the state of the Great Bay is at risk due to increased development and human activity throughout the watershed. So who will be judging the value of these improvements and ecosystem services you might ask? Well the answer is stakeholders and citizens throughout the four-targeted tributaries, namely: the Lamprey, Winnicut, Cocheco, and Oyster rivers.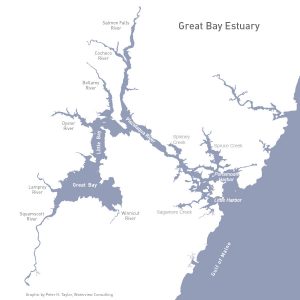 Map of the Great Bay Estuary
Aerial photo of the Great Bay                                                                                                    Estuary
Branching off this topic, my thesis research concerns which characteristics, if any, will affect people's decision-making in relation to water quality improvements and associated ecosystem services. The characteristics I will address are distance, community type, time of residence, tributary, and demographic. These characteristics, as well as the valuation, will be determined by way of a questionnaire that respondents will fill out during a series of workshops.
But what does all of this have to do with my future aspirations? Quite a lot actually! Doing research for this aspect of the project, along with many experiences throughout my time at PSU thus far have shown me that I am fascinated by people. More so than this, I am intrigued by thought processing, human interaction, and effective communication. For example, if my research finds that certain characteristics correlate with less value of the Great Bay than others, it could reveal the necessity for more effective education and communication to those groups. This is where my passion comes in. I love talking to new people, learning from them, and sharing my knowledge with them.
Anyways, I am still in shock that it is already my second semester of graduate school. Nonetheless, the pieces to the grand puzzle that is my life slowly fall in place evermore. It definitely helps to be in such a beautiful area surrounded equally beautiful people who are quickly becoming some of my closest friends.
Beautiful area
Beautiful people